What Are the Top 30 Profitable Products Made in China?
Profitable E-Commerce Products from Made In China
1. Mobile phone holder
This product is everyone's need.
You can keep it in your car and talk to anyone while driving safely.
China has made a lot of designs under this space.
2. Phone cases
Phone cases protect your expensive gadget in the event of falls or accidents.
Thus every mobile user needs to invest in a good quality durable cover.
China manufacturers phone covers after following certain quality standards.
3. Power banks
Power banks are the need of every mobile user.
They are portable and can be carried easily.
Chinese power banks have good quality and are best for the long term.
4. Earbuds
Earbuds are convenient to use.
You can keep them in your pocket to carry along anywhere.
The sound is excellent and comfortable to wear for long hours.  
5. USB Ports/Hubs
USBs have plenty of storage capability.
Moreover, it allows the data to travel fast.
In today's fast tech-driven world USB is a need for all.  
6. Charging cables
Charging cables can carry more information per second than usual parallel cables.
This means faster data transfer.  
Chinese charging cables are in demand by every country.   
7. Sports water bottle
A water bottle (plastic or steel) is one thing every human needs to carry to stay hydrated during physical activities.
8. Smart speakers
Smart speakers can be controlled with your voice.
It can perform various automated tasks and also tells you about the weather.
Moreover, it controls other smart devices; turning on the lights, playing music, etc.
9. Sunglasses
Since sunglasses are a need of every other person, China manufactures this useful accessory on a large scale.
Moreover, you can buy related fashion accessories such as wallets, belts, caps etc., throughout the world.
10. T-shirts
T-shirts are popular as cheap Chinese products.
The trendy designs are available in amazing fabric suitable for all seasons.
Moreover, you will get a good variety of Children's clothing lines. Besides, you will get women's casual and evening dresses. Footwear all are also available at cheaper rates in China.
This is due to the low-cost, high-end crafting labor resources.
Popular Products Made In China
11. Jewelry 
Jewelry items such as necklaces, rings, bracelets, etc., are in high demand these days.
Every woman loves to buy these beautifully crafted pieces.
12. Bags
Bags are the need of every woman.
Big brands like Coach and Dolce & Gabbana manufacture quality bags in China.
Moreover, you can get related accessories from these brands.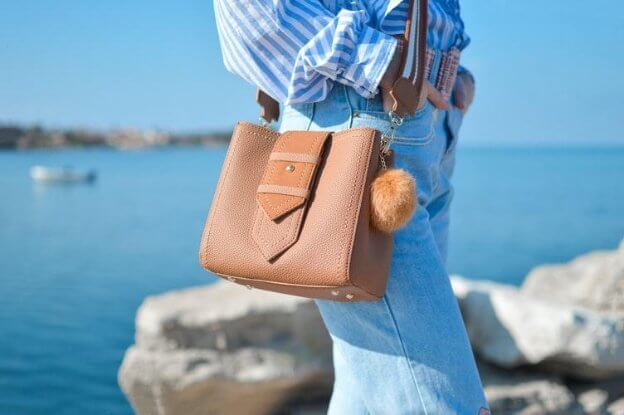 13. Make-up Products
From eye makeup products to skin care items, all can be readily sourced from China.
No one can doubt the quality of these items.
Textile Products from Made In China
China is a global leader when it comes to textiles.
This category can make you easily rich if you know what designs, color contrast,works best in your local market.
14. Cotton
Cotton dresses are worn everywhere in the world due to its great qualities.
24 Chinese provinces grow cotton and export it to the world cheaply.
You may acquire high-end quality cotton from China at the most affordable rates.
15. Silk
Silk is a breathable fabric, helping your body maintain a natural temperature.
Moreover, it is hypoallergenic and is a natural fungal repellant.
Just like cotton, silk is also in high demand these days.
Commodity Products from Made In China
16.   Mobile phones
Mobile phones comprise China's biggest export, considering the need for every user.
From making calls to watching videos, we use smartphones for every activity.
Huawei, Xiaomi, Oppo, and Lenovo are the leading telecom brands that entered the cell phone markets worldwide.
17.   Machinery
China's machinery industry is the leading pillar of the world country's economy.
Chinese companies provide after-sales service to their customers, which makes them the number choice.
Top Products from Made in China
18. Furniture
Furniture is the need of every home. To relax yourself after a hectic day, you need a good quality bed and sofas.
From bathroom vanities to sofas, you can get everything manufactured in China.
19. Home Products
The Chinese market is huge when it comes to Home products. The options are widespread, and choice is limitless.
Be it the curtains, bedsheets, kitchen gadgets, washroom accessories, decorative items – everything sells!
20. Cutlery sets
Cutlery sets are a need for every household, no matter what your global location is.
These unique and beautiful sets can enhance the consumer's dining experience.
21. Air fryers
Air Fryers are a modern kitchen gadget.
They are popular among health-conscious people.
It comes with various options, and the magical aspect of the product is to fry food items without using oil.
22. Toys and games
Toys and games are your kids best friends, as they keep them busy while you're working or busy in household chores.
They are available in a huge quantity in China.
23. Plastics household items
China is one of the largest plastic producers in the world.
They cater to one-third of the world's global production.
The country manufactures Water Coolers made of Plastic, Plastic Rags, Plastic Trays, etc.
Besides household items, the Chinese also exported salt, sugar, teas, porcelain, and spices.  
Hi-Tech Products from Made In China
24. Video doorbells
This unique product has many benefits and gives the facility of a security camera.
You can connect it to smartphones via the internet.
People visiting the house can be viewed on the phone's screen.
25. Led mirrors
Another attractive and useful product to import from China is LED Mirrors.
They provide a clear vision as provided by the natural light.
The embedding of LED lights in a mirror gives it a unique and beautiful look.
26. Orthopedic pillow 
An orthopedic pillow is designed to improve the sleeping ability of an individual.
They are super comfortable, cradle the neck and keep your head balanced.
Orthopedic pillows are getting fair attention amongst health-conscious consumers; compared to regular pillows.
27. Digital cameras
Digital Cameras make digital recordings of images.
The images are transferred to the computer with a USB cable.
This high-tech camera is usually expensive in the market, but Chinese manufacturers sell them at a low price.
28. Smartwatches
Another peak selling item these days is smartwatches.
This high-tech watch offers fitness services.
You can run health applications, track steps, track heart rate, and other sensor-related features.
Moreover, you can schedule events, send messages, and answer calls.
29. Smart light control system
Having an automatic home light system is a blessing.
This control system will allow you to turn on and off the lights with a tap of a button.
China home automation products have become a necessity and required by people of all ages.
30. Creative illusion lamp
They are glowing optical illusions that give a new meaning to your room by making it look "decorative".
You can put these LED lamps anywhere in your room.
How To Successfully Manufacture and Import a Product from China?
If you want to get a product manufactured in China, you must learn the right steps to do that.
This information helps avoid pitfalls that may hinder the process.
Firstly, you need to have production-ready documentation and the support of a qualified sourcing agent.
A sourcing agency like "Dongsourcing"can help you find the right factory in China.
Moreover, they negotiate prices and inspect products prior to shipment.
Follow the pin-points below, and these shall help you in avoiding common mistakes.
1. Research is the key
Before venturing further into the deep economic sea, the Chinese market, you should carry research regarding its rules.
Get sufficient information related to the growing business market.
Learn the Chinese business culture and how normally transactions are carried out.
This shall ensure hassle-free business proceedings.
Some important points to take into account are:
a – Your Rights As Importer: This will help you to ask questions to your manufacturing facility.
b – Chinese Economic Map: Research and get to know the geography of the main Chinese business hubs.
This can guide you to locate the best places to import your product. It also helps you estimate the logistics.
c – License of Import: If you want a quick, hassle-free import transaction, you should hold an Import License.
If you follow the above steps, it will ensure minimizing the risk of business-related failure.
2. Product hunting as per demand
After carrying out the market research, the next step is to identify the product you need to manufacture and import.
You can give the go-ahead to products with high demand such as plastic goods, hi-tech goods, clothing, etc.
You can also explore different niches such as electronic items, household products, etc.
This is almost a fail-proof plan.
3. Have a written set of standards for product
You'll need a written set of objective standards for goods that you want to manufacture.
This documentation is important to hold the factory accountable.
If they fail to make the product as per demand, the manufacturer is liable to replace all or compensate you.
Always spec out your manufactured products' packaging requirements.
4. Selecting a manufacturing unit/supplier
If you want a sourcing agent to find a specific product in China, made to a certain style, just send the pictures to Dongsourcing.
They'll find a suitable manufacturer for you.
But first you'll get a portfolio of all the suppliers so that you can choose the one which suits the most.
This could be a bit tricky as the Chinese market is so huge that finding the right manufacturer is challenging.
Request a quote: Once you choose the supplier, the next step is to request a quote.
Moreover, information like quality level per item, payment terms, everything is required in the bidding process.
Minimal order quantities: Ask the supplier if your MOQ is as per their limits.
If not, you can request them to negotiate the minimums.
Pricing for sample orders: The major concern buyers face while importing products from China is quality.
So, you need to ask for a sample from your supplier.
In such circumstances, a credible sourcing agency such as "Dongsourcing" can solve all your problems.
They have more than 10 years of experience in carrying out the above operations on behalf of global customers.
4. Audits and Inspections
"Dongsourcing" will also carry out all inspections and audits to ensure that the products are up to the mark.
They have personalized logistics solutions to save their partners from the hassles involved in freight and documentation.
They are your hands and eyes, taking care of the quality of products being manufactured in China.
Independent/third party inspection
They also offer customers (if they want) to have an independent, third-party inspection at an additional fee.
You will get a written inspection report by the inspection company that would also include pictures.
5. Payment
Once you sign off on the shipment, payment will be sent to the manufacturer, and we will get the shipment ready for you.
Once the shipment arrives at your country's port, your customs broker will perform further formalities.
Lastly, your broker will make the shipment delivered to your door.
Where Can I Buy Made In China Products?
Indeed made in China products are everywhere.
You can buy the required Chinese products online from Amazon and different e-commerce stores.
No matter how bad the situation had been, China emerged resiliently in the manufacturing field.
Whatever you want to buy, you just name the product, and it will be at your doorstep.
Below we've discussed the best websites to buy wholesale products online from China.
2021 Top B2B Websites Selling Made in China Products
1. Alibaba
Alibaba is the leading website to buy wholesale products from China.
However, it isn't the only shopping site that ships Chinese goods worldwide.
But there are several other leading sites for international shopping.
2. AliExpress
You must have heard about 'AliExpress' – the most well-known Chinese eCommerce online store after Alibaba.
With revenues of $55 billion, Alibaba earns five times more money than eBay.  
It is also known as the largest Chinese online store after Amazon.
Unlike Amazon, they don't sell products themselves.
Instead, they connect you with third-party sellers. So, you can say that it's an e-commerce platform.
3. Banggood
Banggood is known among the leading sites for buying cheap electronics.
However, you will also find jewelry, sports equipment, fashion accessories, and health products.
Established in 2004, it is one of the oldest Chinese sites that sell products worldwide.  
Some orders meet the criteria for free shipping, but you should know that free deliveries can take months to arrive.
4. GearBest
GearBest is a new Chinese online store established in 2014.
They are famous for selling the Chinese smartphone 'Xiaomi' and offer better deals to its customers.
Moreover, the site covers other niches like Home and Garden, Electrical and Tools Appliances, and Kids.
They ship worldwide except Palestine and South Sudan.
5.  DHgate
DHgate's main selling category is fashion.
Headquartered in Beijing, they also sell some electronic and home items.
The best thing about DHgate is they sell affordable products.
If you're looking for cheap fashion accessories, watches, bags, DHgate should be your first choice.
The best part of this site is that they ship worldwide.
6. YesStyle
YesStyle sells mostly cosplay outfits, womenswear, and maternity clothes.
Moreover, they sell childrenswear, menswear, and lifestyle products.
Unlike other shopping sites, YesStyle is famous for selling mainstream brands -Japanese and Korean labels.
People who are fond of fashion in Japan and Korea would love to order from them.
7. Shein
Shein specializes in women's fashion, such as clothing, bags, and other accessories.
Though the site also sells menswear and children's products.
It is another leading website that sells made-in-China products worldwide.
With the help of the internet, you can find many wholesale Chinese suppliers.
Attend Trade Shows and Exhibitions
Apart from these B2B websites, you can buy products from trade shows/exhibitions held each year globally.
China's top 5 trade shows are the Beijing Auto Show, the Canton Fair, Yiwu Trade Fair, Bauma Fair, and the Shanghai Commodity Fair (Import and Export).
Featured products
1.The Canton Fair: China's biggest trade fair that features almost every consumer and commercial item.
Beijing International Auto Show: As the name suggests, this fair features automobiles and accessories.
The Yiwu Commodities Fair: Features consumer goods mostly.
Bauma Fair: Features building materials, construction machinery, and equipment.
Shanghai Commodity Fair (Import and Export): Features clothing, consumer goods, textile products, and much more.
The trade shows have a great influence on China's economy.
They help improve Chinese technology.
Buyers, wholesalers, and importers from all over the world attend them happily.
Get Help of Sourcing Agents
If you plan to get business established and benefit from the Chinese products, contact an agent like 'Dongsourcing.'
They are a prime sourcing agency based in China.
They will duly act as your partners and take care of your sourcing needs.
Dongsourcing will work side-by-side with you.
From arranging the best factories to inspect the final products according to the requirement.
Moreover, they will handle the transportation hassles alongside drop-shipping services.
This is essential to ensure importing highly profitable products from China.
And this would help you get successful in your business.
Watch Out For Scam
When ordering online products, you must have either heard or experienced scams that manufacturers do.
Because the world of the internet is open to all, it becomes very easy to scam consumers.
However, there are many payment protection methods that these B2B shopping websites adopt to protect consumers' rights.
Regardless of where you connect with an online supplier, you need to stay clear about the ordering and payment steps.
Likewise, make sure there's evidence (written) of everything you've agreed.
How sourcing agents help you in this situation?
Indeed, it's hard to analyze the quality when the supplier is abroad.
Therefore, working with sourcing agents is important as they play a crucial role in quality.
Furthermore, if it's a large order, you can also hire a third-party inspection service provider.
These people will inspect the quality of the products.
What Are The Top 10 Places To Find Manufacturers In China?
The coastal provinces of China together account for 33% of the country's total merchandise exports.
Also, 7 of the 10 busiest ports in the world are located in China.
Nowadays, many US companies are seeking to take the help of China manufacturing for making their products.
The following top ten cities come to mind for most of them.
China Manufacturing Distribution Province and Cities Wise Breakdown
1. Shanghai
Shanghai has played a vital role in accelerating trade in China today for over the past 25 years.
The province manufactures communication equipment, petrochemicals, automobiles, electronics, and steel products.
 This is due to its incredibly rapid economic and financial development of the industry.
Furthermore, in Ningbo and Hangzhou, near Shanghai, bulk manufacturing of commercial and consumer items occurs daily.
2. Beijing
Following Shanghai, Beijing is next on the list of top 10 places that produces bulk electronics and pharmaceutical goods.
The city is also known as one of the leaders in IT and bio-engineering.
3. Tianjin
Beijing indeed holds its industrial power due to Tianjin, its sister city.
The place is another manufacturing giant in mobile phones, automobiles, energy products, aerospace, and aviation.
4. Guangzhou  
There are thousands of factories located in Guangzhou, known as China's most prominent urban city.
Those factories manufacture all consumers and commercial goods. Every item from toothpicks to automobile parts.
5. Shenzhen
Shenzhen is home to 12 million people.
The province is not only known as the electronics manufacturing hub of China but of the world too.
If you want to import electronics items made in China, Shenzhen is just the place.
Likewise, you can find mobile phone accessories here as it accommodates 10,000 plus high-tech manufacturing factories.
6. Ningbo
With a solid manufacturing base, the city is ideal to source goods from diverse sectors of manufacturing.
From textile to automotive, from rubber to plastic items, the city covers all industries.
You can also find companies that manufacture a good range of home appliances, telecom equipment, electrical machinery, etc.
Their production output is rapidly increasing and will probably continue rising over the coming years.
Due to its rapid growth, Ningbo has been given the title of "China's province's major economic engines."
7. Hong Kong
Hong Kong has a leading economic system and is known as one of the world's largest financial centers.
The city prides itself in developing growth in the medical field and education, textiles, and other innovative technologies.
Testing, inspection, and certification of all these essential services contribute largely to Hong Kong's economy.
8. Qingdao
Qingdao is known as China's powerhouse manufacturer.
The city has a wide range of industries covered.
It includes metallurgy, automotive equipment, construction materials, and machinery.
Moreover, they play a major role in the textile and garment markets.
9. Wenzhou
Wenzhou is a city in Zhejiang Province.
This place has a remarkable history in shoe selling.
Moreover, they are well-known in papermaking and printing.
There are more than 4500 shoemaking enterprises in Wenzhou – 900 of them manufacturers kid's shoes.
Whether you're looking to buy a pair of sneakers or its accessories from China, visiting Wenzhou is fruitful. 
10. Zhongshan
Guzhen Town in Zhongshan covers approximately 70% of the lighting market.
You'll be surprised to learn that it sells lighting in 125 countries.
If you need to import outdoor LED billboards or other lighting products made in China, buy from Guzhen.
It is also known as the lighting capital of China.
How Dongsourcing Help You Import Reliable Made In China Products?
Dong Sourcing Group was founded in 2012 in an important port city named 'Ningbo city.'
The city has a major port and industrial hub in Zhejiang Province, China.
Because the company is based in this city, it is known as a fast-growing service company in China.
The aim is to make your import easier and smoother.
Added Advantages Available To DongSourcing
Dong Sourcing Agent company enjoys full advantages of Ningbo port city.
They provide their customers best sourcing agent services around the world.
Also, they enjoy many benefits that agents of other towns don't get.
First, take a look at what benefits the Ningbo government provides to this sourcing agency.
Ningbo enjoys the economic sovereign right (having control of its monetary system).
Trade and logistics are known as the pillar industries of this city.
Considering this, the Ningbo government offers a significant part of its revenue to them.
The reason for revenue sharing is to support local companies; logistics companies, agent, manufacturers, etc.
The government gives tax rebates to exporters.
Moreover, they provide faster and hassle-free export customs procedures to facilitate enterprises.
These facilities, in return, help customers save money.
The Ningbo port is the world's 2nd biggest port, so Dongsourcing gets access to the biggest manufacturing base in China.
Moreover, many shipping companies such as MSK, APL, CMA, COSCO set up branches in this city.
This provides an advantage to Dongsourcing to double their import and export business.
Furthermore, Ningbo port welcomes almost all countries around the world.
The port offers a well-known port service to its sourcing agents.
Dongsourcing enjoys 24-hour operation with high efficiency.
If any problem arises during the logistics operation, it can be solved promptly.
Hence, customers never face delays in shipment.
Fulfills 5 Main Aspects of Supply Chain
Dongsourcing acts like your overseas branch.
They empower your supply chain (no matter where you're located) in only 5 main aspects.
1. Helps you get the factory direct price
For customers who have a decent order quantity, a business relationship with a factory is important for growth.
Dongsourcing can help you find a matching industrial cluster.
2. Save your time
Being a busy businessman doing everything yourself can hinder your company's growth.
Likewise, it can delay your business operations.
Outsourcing work to a competent sourcing agency allows you to plan the next move efficiently.
3. Reduce the risk of being scammed
Ordering goods online involves considerable risk, especially if you have ordered a large quantity.
Dongsourcing reduces risks such as low-quality goods, delayed shipment, non-compliant goods, other supplier fraud, etc.
Their supply chain process is smooth from the start to the time goods are delivered to you.
This reduction of risk is an essential function of a good sourcing agent.
4. Reduce communication barriers
Chinese factories have salespeople who speak only in Chinese.
So, to remove this communication barrier, you need to take the help of a local agent like Dongsourcing.
Their job is to ensure that the factory manufactures goods exactly the customer wants.
5.  In-detail inspection of goods
Dongsourcing inspects the goods (irrespective of the order quantity) on your behalf.
So you don't receive a container of substandard products.
They make sure you get the export quality worth your money.
Why Dongsourcing takes an edge over its competitors?
Dongsoucing honorably presents China's homeland.
They are a one-stop solution to all your business sourcing needs with experience of more than ten years.
Most China sourcing agents charge extra fees to inspect goods or ask you to pay an export customs fee.
But with Dongsourcing, you don't need to pay for every single step.
They offer not only traditional purchasing but also open doors for Amazon sellers.
They have business relationships with more than 1000 trustworthy local suppliers, manufacturers, and factories. These companies are known for providing high-quality products at the required time.
They offer personalized logistics solutions.
So you don't need to get into the hassles involved in the shipping documentation.
Provide you with 50 A-level logistics companies.
All the team members of Dongsourcing have ten years plus experience in this field.
Therefore, efficient execution and affinity are guaranteed. 
All these things help you to better focus on your Sales and Marketing – Business Development.
And you can consider the benefits mentioned above when deciding to work with a Dongsourcing agency.
How Do You Order Products Custom Made In China?
All custom-made China products are made to certain standards.
However, choosing the right supplier is vital to success.
At a high level –effective communication is the only way to get custom parts done accurately.
Custom products typically require more adjustments.
As they need specific components, unlike common materials. Likewise, they have narrow specifications and might require specialized skills to get the job done.
If it's your first time sourcing, find a trustworthy agent like 'Dongsourcing' who can work on your behalf.
The agents are the best bet to guide you through the sourcing process.
They ensure all custom products made in China must go through the process.
Initial design, development > refinement > prototyping (model of a product made to test)  > sampling > and then > production.
Moreover, they ensure compliance, testing, and regulatory issues are met.
5 Easy Steps to Custom Made Product in China Process
China's manufacturing industry is massive.
You'll get uncountable suppliers for a single product.
However, when it comes to custom manufacturing, you need to step forward.
Additional expertise is required to locate the best factory for the chosen product.
The following steps will help you connect the right supplier for custom Chinese products.  
Step 1: Organize 3d part files and photos
As said above, communication plays a massive role in getting your custom products appropriately made.
Here we explain to you why.  
Unless you're a native Mandarin Chinese, you won't communicate your requirements easily to the supplier.
In this case, photos and 3D part files are your best friend.
Use arrows and text on your files and pictures to point out critical areas, if any.
Make notes in the file that will help the engineer to understand the requirement better.
For example, you can add notes about tolerance requirements and other specifications.
Step 2: Choose a different supplier for each category
You will likely want to have various custom products made in China, such as plastic, electronic parts, etc. It is advisable to have a different supplier for all these categories. Choose experts in the fields.
The guy who sells sports jackets may not be the best option to sell water bottles. It's also better to research who they sell to and what's their business reputation.
Dismiss anyone that claims to manufacture all. Many manufacturers claim that they can do it all.
But not all are experts in custom designing the relevant product category.
Be ready to prepare notes for each supplier so you can get better quotes in the first place. 
Step 3: Negotiate sample fees
Once you're done with the above two steps, it's time to ask for a sample.
The samples shouldn't cost you more.
And you shouldn't have to deposit an amount for the production run until you're 100% satisfied.
The quality, design, and other features of a sample must be as per specifications.
But, sample shipping is expensive, so you have to bear the cost.
Step 4: Ask for a 9-photo digital sample pre-shipment
It isn't very pleasant to receive samples that are different from what was requested.
Now you need to wait for weeks or even a month for a new piece to arrive.
This can be avoided if you request a 9-photo digital sample.
It means your engineer at least takes nine photos of a sample from different angles.
They will prove critical measurements and other specifications.
Doing this is essential if you want to avoid delaying the process later. Moreover, making short video clips of a sample part can be beneficial too.
Don't miss this step!
Step 5: Test samples and choose supplier
Now, when you've got your samples, it's time for their testing.
Mark who supplier provided which sample.
Failure to do so will make your work extra like tracking down which sample belongs to whom.
How does the sourcing agency help you with this process?
Helps you connect you with the right manufacturer in the first place. This saves time and effort
Get the lowest-cost suppliers of custom made in China products
Conducts sampling and testing procedures (3rdparty inspection is optional)
Providing timeframe guidance
Indeed custom-made products manufactured in China increase brand awareness and profit.
It also differentiates your brand from the competition.
If it gets done right, you send a strong message to the world about your company's innovation.
With experienced agents like 'Dongsourcing' on your side, custom-made China products are easy to get.
Moreover, you have many online resources to find a supplier for made-in-China products.
As discussed above, Alibaba, Aliexpress, and other Chinese sites can help you meet a suitable manufacturer.
Also, if you have time, you can always visit some of the larger trade shows held each year in China.
And for some reason, if you can't visit these consumer products shows, trusting Dongsourcing to work on your behalf is a wise option.